Friday 29.04.2011
Up early, eating my sliced German bread with nutella and coke (maintaining a healthy diet while at a convention is always my top priority).
I arrived at the convention in time for the photoshoot with Kate Hewlet at 10:00, and she was really nice to everyone who had their picture taken.
I listened to the Robert Duncan McNeill panel, which was very funny and included alot of humor between Robert and Garret Wang.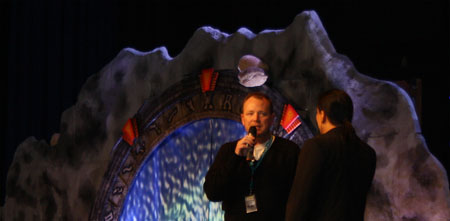 For some reason I missed the Scott Bakula fotosession at noon, and the 13:30 photoshoot with garret wang was cancelled, as was the 14:30 photoshoot with Paul Watson. From 12 to 18 there was mainly the autograph sessions, but I did not bother getting any this year.
I did however meet some nice people at the Sea Shepherd booth, and got to have my picture taken with captain Watson, after all he doesn't have that many Norwegian fans. I also took a weirdly posed picture with Paul McGillion which I'm curious how will turn out, I guess the Indiana Jones hat will be the recurring themes from this years Fedcon pictures of me.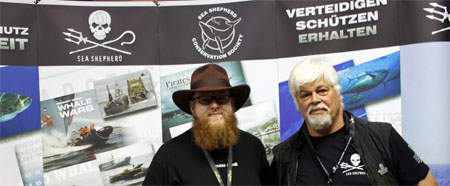 I walked around alot, and ran into Zach again, and ended up being his photographer for a little while.
At the infinite space both, I got to play another mission, where you defend a space station against 3 waves of klingon attacks. I also got to study the game on a HD tv and the graphics again managed to amaze me, considering it's a browser game (I might even have to stop using the term "browser game" as an insult).
The controls also seemed better today, and I got to see a bit of the lobby, and menus (crew, items, ships, etc..) and I'm now looking even more forward until the game is released (sometime this summer a very loose rumor said, but I kinda doubt it.. I'd guess no earlier than the last quarter for 2011).
For dinner I had nesquik chocolate milk and cold pancakes from the airport grocery store :) a substantial nutritional improvement from last nights dinner, which shall remain nameless. I actually considered heating up vegetarian bratwursts with the hair dryer in my hotel room, but ultimately decided against it :)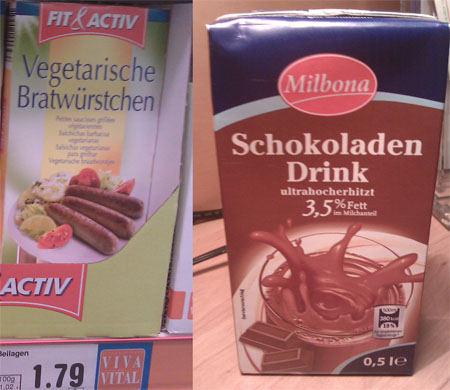 After all that walking around it was great to sit down in the main convention hall at 18:00 to take in the interviews. Richard Dean Anderson was a lot more fun than I was expecting (never seen him live or doing panels before), and lots of people in Stargate uniforms got on stage and gave him a gift or award or something like that.

Paul McGillion followed and was also great. Same goes for Scott Bakula who was really funny, and did a surprising amount of singing. This is only my second convention so haven't seen Marina Sirtis before (think she's been to Fedcon like 6-7 times), she was very funny and told all sorts of interesting stories, it's funny how she's the complete opposite of Troi :)